Cardano price has shown a strong rebound this week as the cryptocurrency rallied. It climbed to $0.4298, its highest level since October 6 of this year. The coin has risen more than 23% from its lows this month.
Cardano NFT Volume Increases
Cardano and other cryptocurrencies have performed well in recent days. This recovery came in sync with the performance of US stocks. Analysts attributed this to weak US housing and consumer confidence data.
These numbers have led more people to predict that the Fed will begin to pivot soon. As a result, the U.S. dollar index and U.S. Treasuries retreated to multi-month lows. Historically, cryptocurrencies like BTC have been inversely related to the US dollar.
Cardano prices are also rising due to the strong performance of the Non-Fungible Token (NFT) industry. The data compiled by OpencNFT is Volume The NFT has been in a strong bullish trend over the past few months. As you can see below, his daily amount of NFTs in the ecosystem hit a record high this week.
find out How to buy Cardano.
Some of the most popular Cardano NFTs are SpaceBudz, Pavia, Clay Nation by Clay, Boss Cat Rocket Club, The Ape Society and more. These numbers show that Cardano's NFT activity on Cardano is going well.
However, other parts of that ecosystem, especially DeFi, haven't fared well. According to data compiled by DeFi Llama, Cardano ranks 35th in Total Value Locked (TVL). TVL exceeds $90 million. Beaten out by other less popular chains like Celo, Canto and Fusion.
The same applies to the NFT industry. Cardano's volume is growing, but it's not among the top 15 chains for NFT hosting. Instead, it was beaten out by other lesser-known projects such as OEC, Panini and Palm.
Cardano price prediction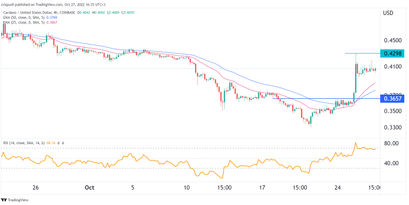 The 4-hour chart shows that the ADA price has recovered significantly over the last few days. As it rose, it broke above the key resistance level of $0.3657, the October 18 high.
Most importantly, Cardano has formed a bullish flag. This is usually a positive sign. The Relative Strength Index (RSI) is trading at overbought levels. Therefore, the coin is likely to make a bullish breakout in the short term. If this happens, a rally to $0.50 is possible.