October was a relatively sleepy month for blockchain, with no major market swings, project launches or funding rounds. The NFT market has remained stagnant since late summer as the macro environment remains challenging.
Starting with last month's report, Footprint Analytics began incorporating and improving wash trading filters and analytics. As the market cooled, wash trades dropped significantly below market highs, but problems remain in accurately assessing the industry.
whole market
The total market capitalization of the NFT sector increased by 9.7% from $643 billion to $706 billion.

However, the total number of NFT transactions plummeted from 5.3 million to 3.7 million.

The total number of NFT holders increased from 17.2 million to 19.2 million in October.

The buyer-to-seller ratio increased in October, reaching 0.89 (89 buyers to 100 sellers).

The last time there were more buyers than sellers was in May, with 545,531 buyers and 514,442 sellers.

Overall NFT marketplace volume decreased by 24.9% month-on-month.
Financing and investment
The number of funding rounds in the NFT space decreased from 12 to 9, while the overall number of rounds in the blockchain space decreased by 25% month-over-month (from 95 to 71).

Most of the funding rounds were seed rounds.

As Web3, GameFi, and infrastructure increasingly converge on NFTs, it becomes increasingly difficult to separate NFT projects from other projects and analyze categories in a clean vacuum. For example, Stardust, the top-funded project, can be classified as both an NFT and a game project.
markets and chains
Wash trading continues to be an obstacle in evaluating the NFT market. However, it is significantly lower than the market highs from January to April.

Ethereum still accounts for the majority of NFT trading volume, but the total number of transactions is roughly evenly split with Solana.
Collection overview
Meebits, Terraforms by Mathcastles, and Dreadfulz were the three most traded collections by volume in October. Their suspicious wash transaction amounts were 94%, 98%, and 89%, respectively. Note: These are percentages of total trading volume, not total trading volume.

Prime NFT collections BAYC and CyptoPunks saw little change in trading volume from September to October.
NFT market overview
In October, the NFT sector volume fell with the trades, but the overall market capitalization increased.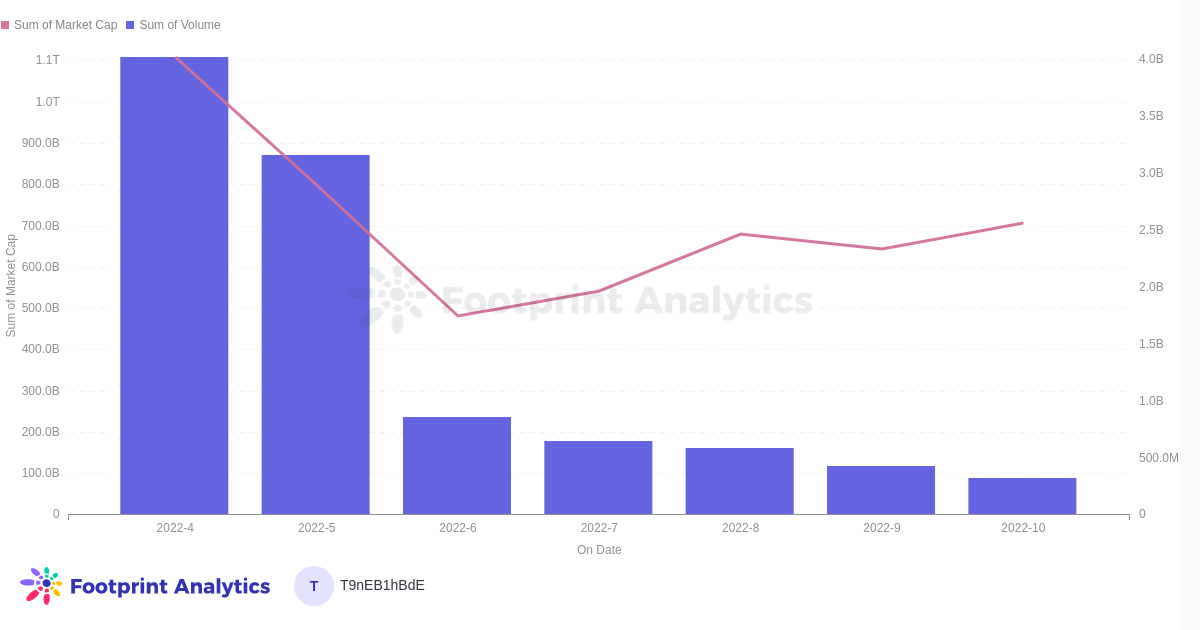 NFT Market Capitalization and Volume (October Report)
The ratio of buyers to sellers continues to rise. In the summer, the ratio was much more favorable to buyers and NFT prices fell, but they started to balance again in September and continued to rise in October.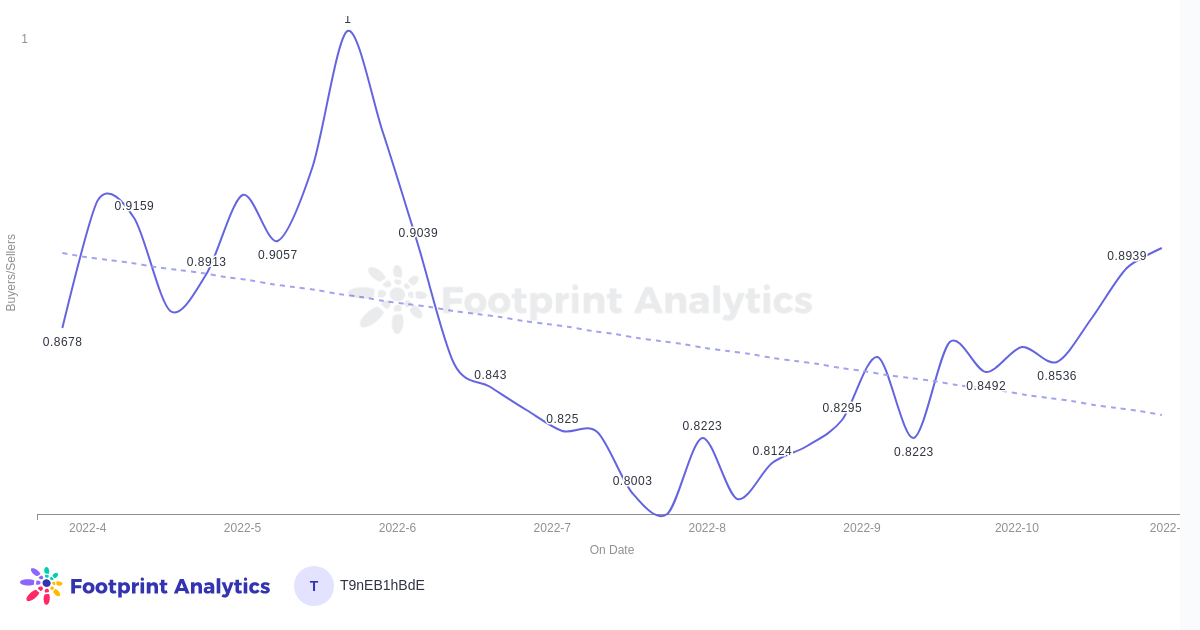 Buyer/Seller Ratio October Report
investment and fundraising
The number of blockchain industry funding rounds has shrunk across all categories, with the number of NFT funding rounds now in the single digits.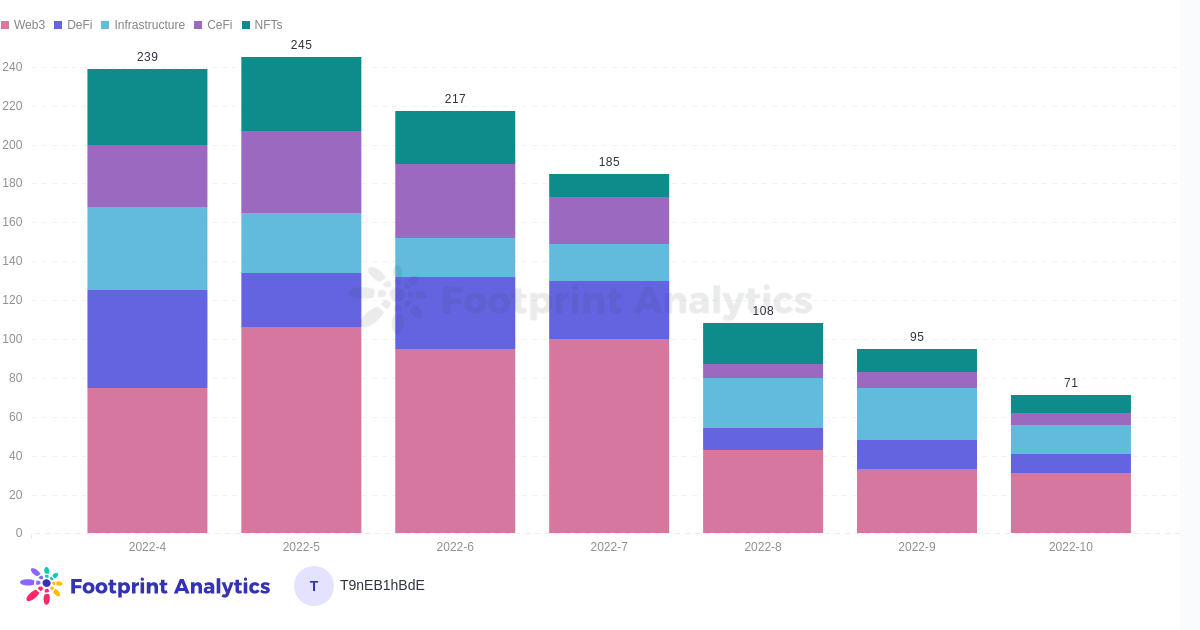 Investments by Category (October NFT Report)
markets and chains
At the beginning of 2022, wash trades accounted for a large percentage of total NFT trades. Since then it has gone down. Non-Ethereum chains still face an uphill battle in winning over NFT projects and communities.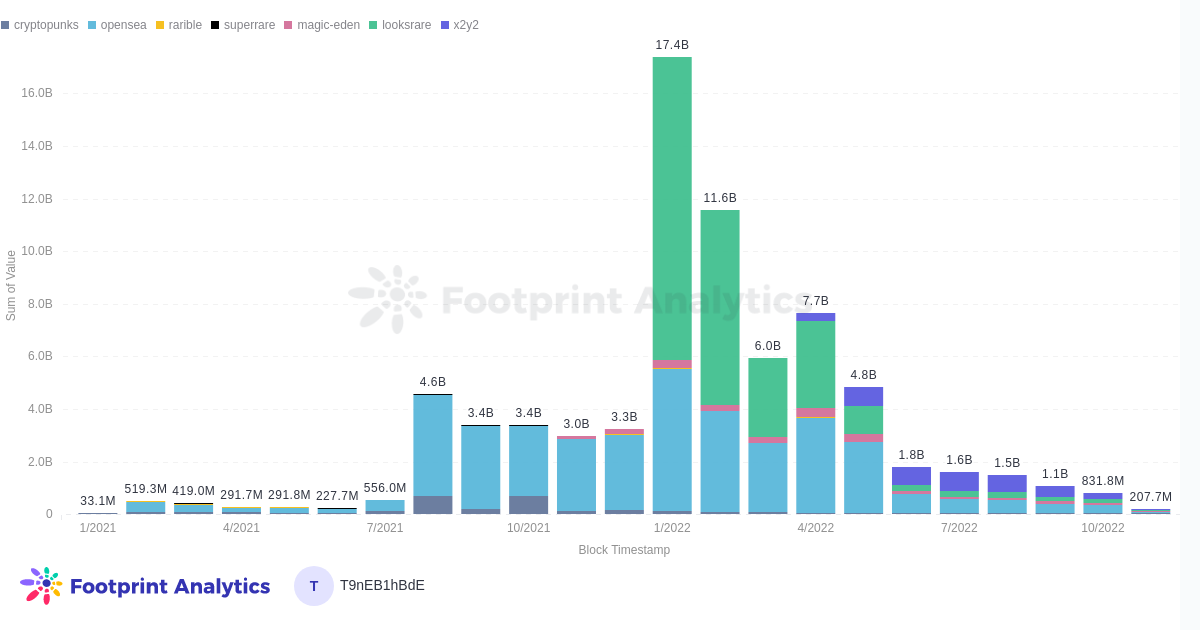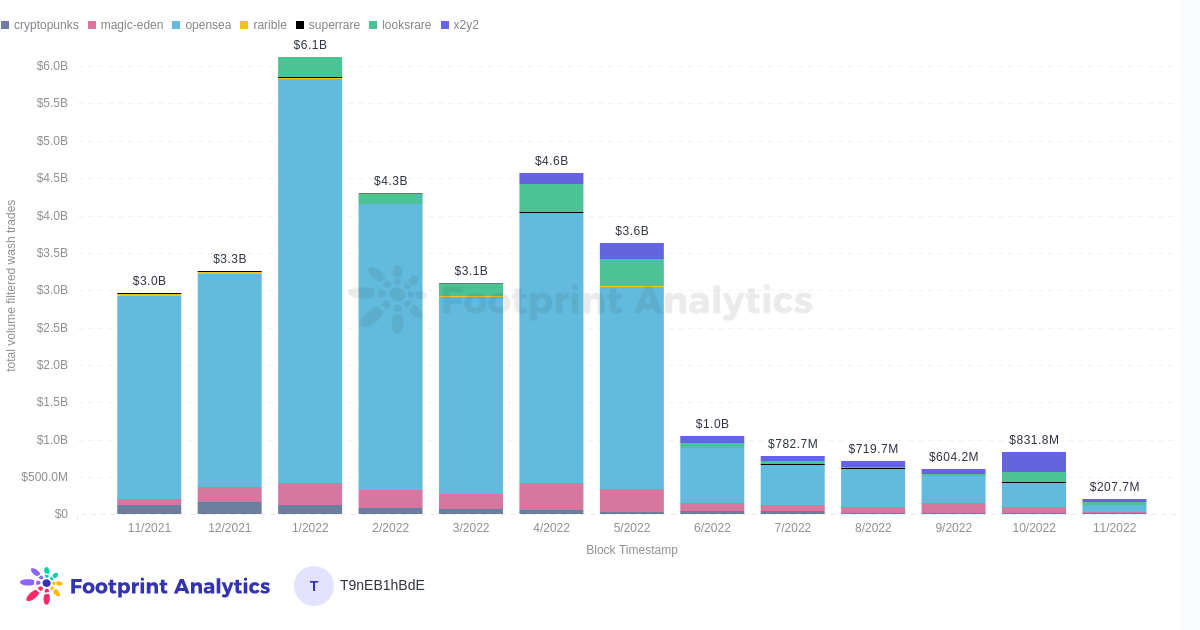 NFT Volume by Platform (filtered wash trading)
collection
The top three collections by volume in October were Dreadfulz, Terraforms by Mathcastles, and More Loot. The percentage of wash trades for each collection was 90%, 92%, and 93%, respectively.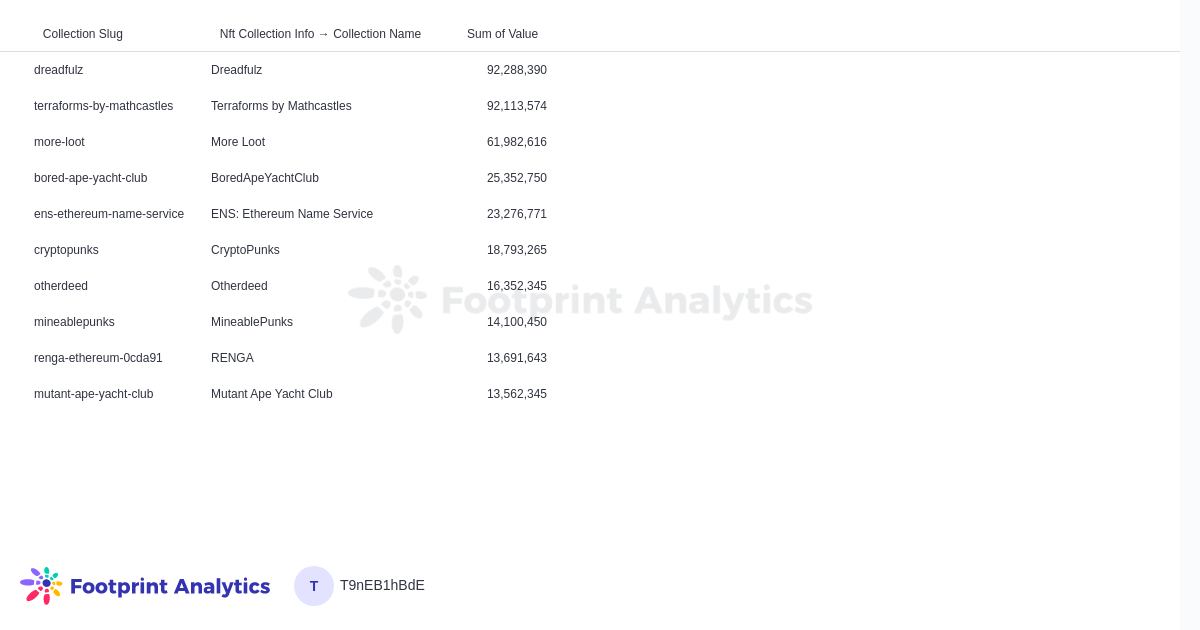 Top 10 Collections by Volume (October Report)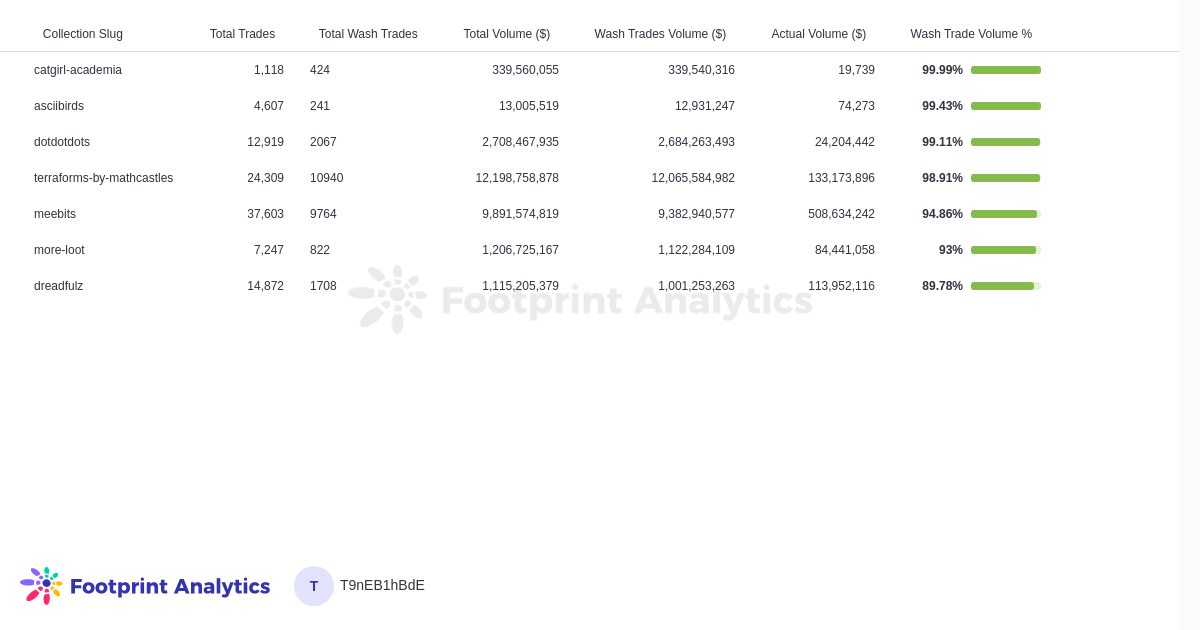 Wash trade statistics for selected collections (preview)
Good collections tend to be good leaders in the NFT market as they do not experience wash trading. Little has changed from September to October for both CryptoPunks and BAYC.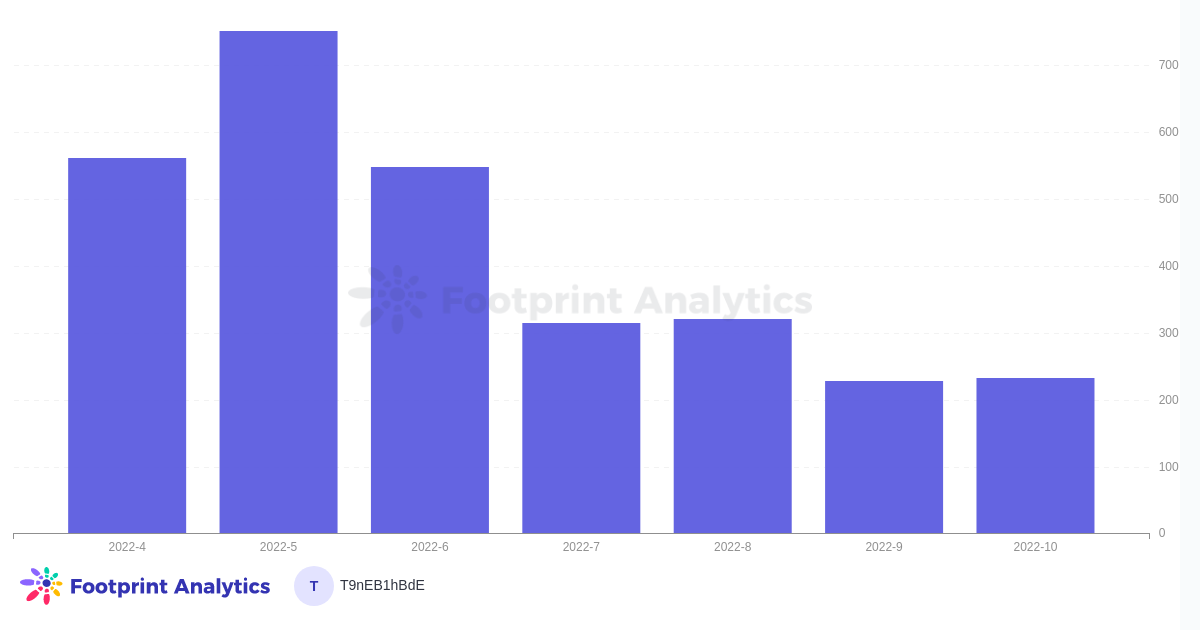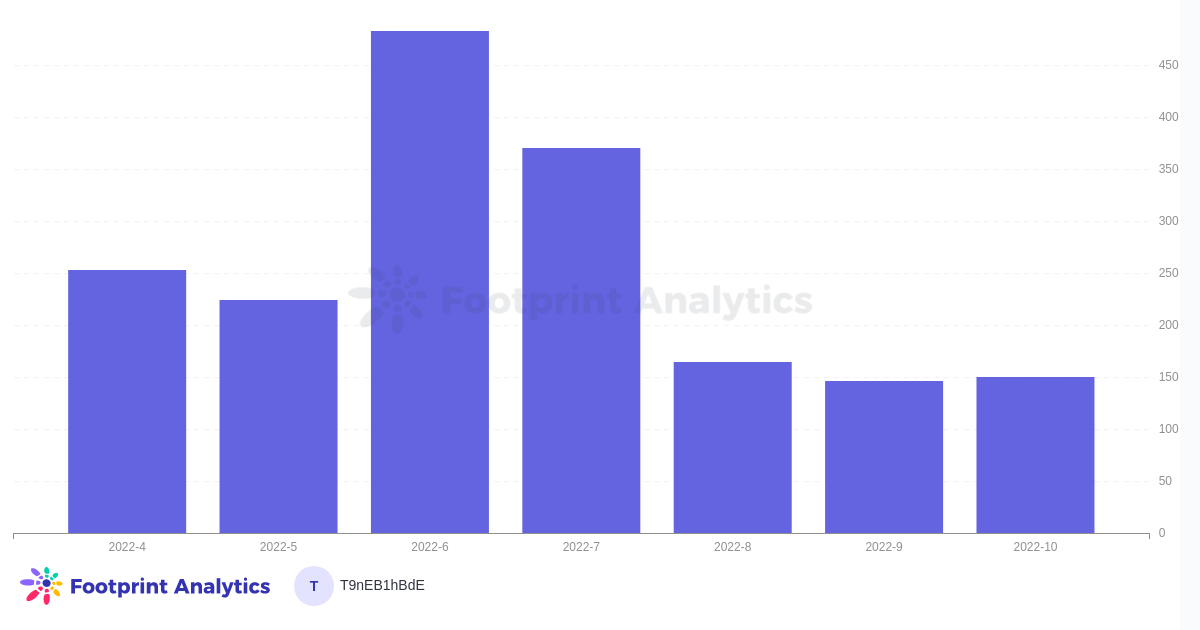 Contributors to this work are footprint analysis community.
The Footprint Community is a place to help data and crypto enthusiasts around the world understand and gain insights about Web3, the Metaverse, DeFi, GameFi, or any other area of ​​the emerging blockchain world. Here you'll find vibrant and diverse voices who support each other and move the community forward.
Footprint website: https://www.footprint.network
discord: https://discord.gg/3HYaR6USM7
twitter: https://twitter.com/Footprint_Data
Disclaimer: The views and opinions expressed by the author should not be considered financial advice. We do not advise on financial products.